Why your company needs this extra large, heavy duty UTZ foldable pallet boxes?
20.08.2022
ByValentin Evol.bg
EXCLUSIVE OFFER: EXTRA LARGE, HEAVY DUTY UTZ FOLDABLE PALLET BOXES (1312, 1412, 1712)
These heavy duty UTZ foldable pallet boxes are the perfect choice for reusable packaging. Built for loads which need maximum protection, they will benefit you year after year and course after course (UTZ containers have a durability of up to 20 yrs). And the containers are heavily reinforced with steel bars. In the walls and the bottom, To protect its precious load.
UTZ containers dimensions and approximate quantities:
1300 x 1200; 497 pcs.
1400 x 1200; 312 pcs.
1700 x 1200; 100 pcs.
The 1312 and 1412 are almost new!
Is this really what your logistics needs?
Due to thе current global situation, logistics managers and departments must quickly find strategies to help their companies cut costs. 50% of the prize of companies' product or good is made up of the cost to transport it to the end user. So shrinking this cost is the only way to remain competitive in the market. Much can be saved by purchasing smart. Like almost NEW products with 70% discount. And no warming time for production.
The Best Solution (PROVEN)
Reusable packaging will significantly reduce your fuel costs (https://zamko.eu/projects-and-solutions/how-can-automotive-industry-reduce-logistics-costs-and-reach-maximum-supply-chain-resilience-in-2022/). The MAIN TOOL to achieve this strategy: heavy duty, reusable UTZ foldable pallet boxes.
Currently, manufacturing companies have no better alternative for transporting goods and products over short and medium distances. This is the best solution! It`s no longer economically viable to purchase disposable logistic carriers for each subsequent delivery. The costs are enormous! And add to that the cost of disposing of these single-use carriers. In contrast, reusable carriers are environmentally friendly.
Exceptional pallet boxes at an amazing price
These heavy duties, reinforced UTZ collapsible pallet boxes for returnable packaging are mainly made of plastic. But they are actually armoured! The containers have steel reinforcement at the most important structural points. They are suitable for use by many industries and are preferred by automotive companies. Folding, reinforced pallet containers for vulnerable and heavy loads. Height: 950mm. Zamko offers them in several dimensions – all with the lid included. The discount in price will be up to 70%. Even for the ones almost new.
The advantages of ZAMKO's extra large UTZ foldable pallet boxes:
Designed for big loads, long service and reusable packaging.
Steel reinforced in topside drop door, below drop door and around bottom.
Used, but in excellent condition (inspected and guaranteed)!
Collapsible. Drop doors on 4 sides.
All UTZ containers have a lid with handles for easy opening and closing.
Get them NOW with 70% discount on new product!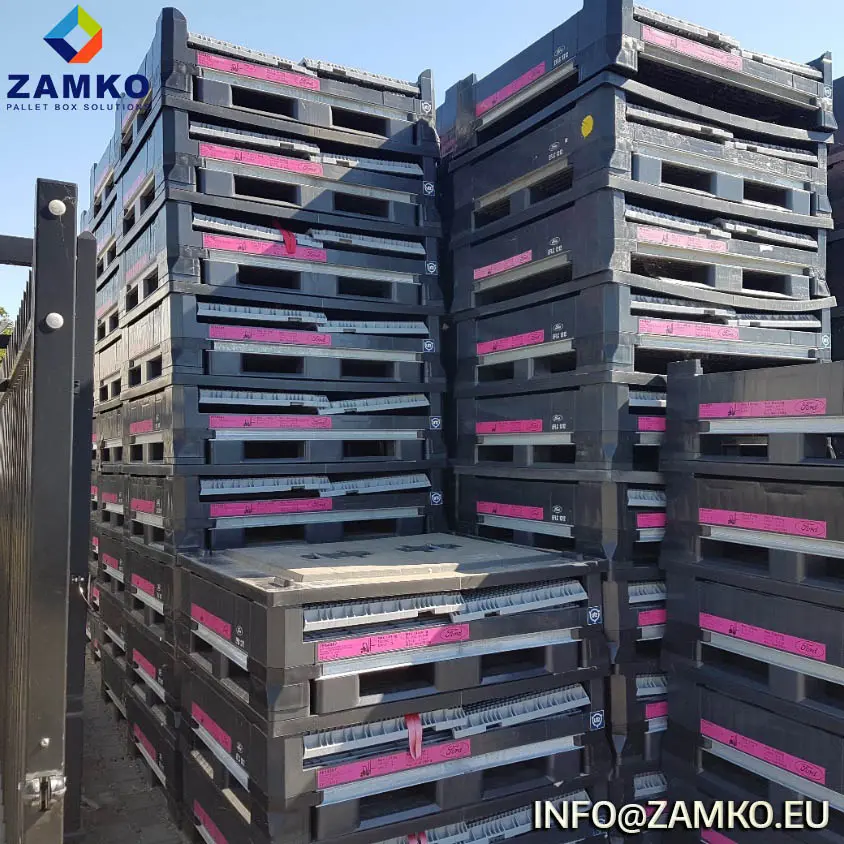 Leave your comment here:
Leave your comment through the form below and share your opinion.
More from the Category
Gain insights by reading our blogs.
Why ZAMKO?
If you're wondering where to buy pallet boxes, you've come to the right place! ZAMKO is a specialist supplier of new and used pallet boxes. Based in The Netherlands, we can deliver high quality boxes on a just in time basis throughout Europe.
Read more about Zamko